Private Jet to St Tropez
St Tropez Airport is located in the French commune of La Môle, about 15 kilometres from St Tropez. The airport is also well-connected to Sainte Maxime and Toulon by car. Almost 8,000 domestic and international passengers pass through St Tropez La Môle Airport per year, making it one of the least busy international airports in the world.
St Tropez Airport History
Built exclusively for business and private jets, La Môle Airport in St Tropez opened on August 8, 1964 and has been modernised considerably since it first opened. The first regular charter flights from St Tropez to Geneva and Zurich began in 1995 and 1996. The airport's operator places a high value on minimising private air travel's impact on the environment. As such, all baggage and service vehicles at the airport run on electricity. The airport also uses a Ground Power Unit (GPU), which helps aircraft take off and reduces both noise pollution and carbon dioxide emissions.
St Tropez Airport Location
Distances from St Tropez La Môle Airport to:
St Tropez city centre: approx. 17 kilometres by car
Port of St Tropez: approx. 17 kilometres by car
Cogolin: approx. 7 kilometres by car
Upon landing by charter jet in St. Tropez, car hire companies on site offer both luxury and classic cars. Arriving and departing passengers of private flights in St Tropez can choose between helicopter, limousine, or taxi transfers. Additionally, your chauffeur can bring you directly to the runway if desired.
Private Plane Charter to or from St Tropez: What to Expect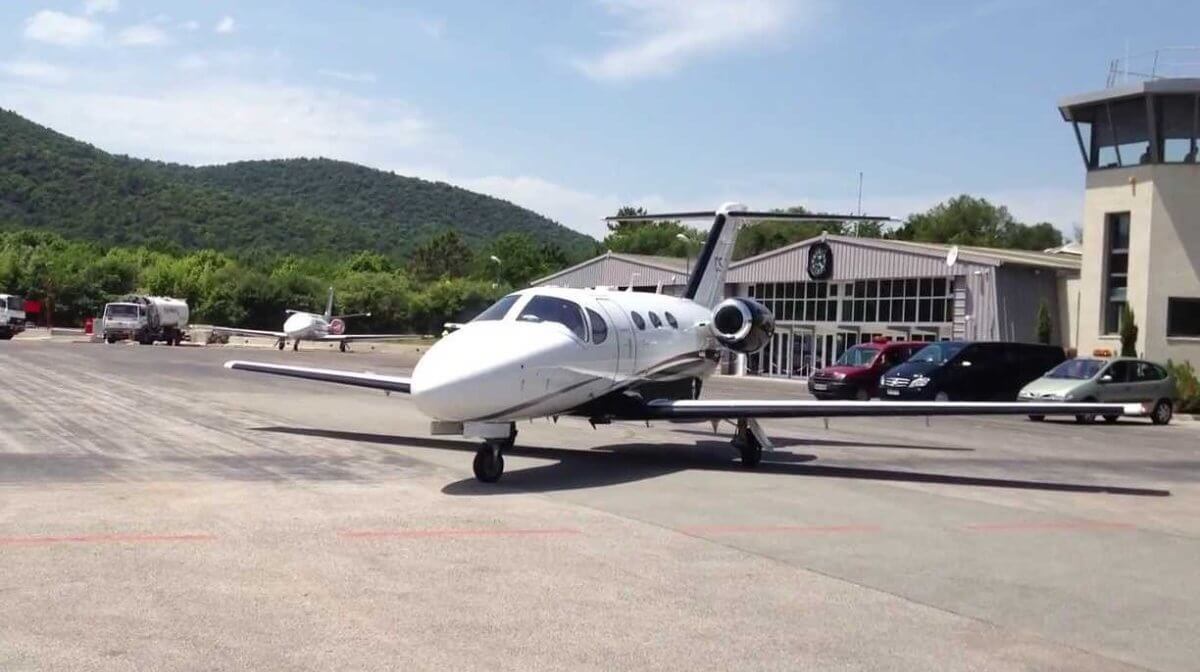 You won't need to wait long in St Tropez to catch the holiday spirit. Directly at the airport, the restaurant and bar L'Escale Tropézienne offers an excellent selection of drinks, sweets, and snacks, including:
Cold and hot drinks
Cakes, pastries, and desserts
Canapés, sandwiches and snacks
A diverse menu for in-flight catering
On the other hand, if you're in town on business, St Tropez La Môle Airport has a meeting room for up to 50 people which is equipped with conferencing and office equipment including mobile screens, wall displays, a sound system, photocopier, fax and Wi-Fi. Belonging to the Aéroports de la Côte d'Azur (ACA) Group, the airport is the ideal location for events, with the automotive, advertising, and film industries among the facility's regular clientele. You can also arrange automotive testing, skydiving, airplane or helicopter christenings, and even weddings on site.
Private Jet Hire from St Tropez
St Tropez Airport isn't always the endpoint of your journey. After a few days of sun, sand, and glittering blue waters, completing a business deal in Geneva might be next on the agenda. Along with the aforementioned, outbound St Tropez flights include frequent connections to the following popular destinations:
On a private jet from St Tropez, you can reach numerous popular European destinations in less than an hour's flight time. The picturesque towns of Lausanne or Annemasse on Lake Geneva are both about an hour, as is the city of Geneva itself. The wine valleys and holiday resorts near Sion are also just under an hour away. France's main private air travel hub - Paris Le Bourget Airport - is an hour and 20 minutes.
St Tropez Airport Runways
| | | |
| --- | --- | --- |
| Runway | Length and width | Surface |
| 06/24 | 1,180 m x 30 m | Asphalt |
St Tropez has long been a favourite holiday destination of Hollywood celebrities and the so-called "jet set". The seaside town is a paradise for sailing enthusiasts – its two marinas housing 800 berths makes it the ideal location for luxury yachting. The seaside resort's stunning geography has served as a muse for painters such as Matisse and Signac. In addition to water sports and beaches, the town's attractions include the Citadel fortress, which houses the Maritime Museum and offers magnificent views over the town and surrounding coastline.
Equally famous for its beaches, grand resorts, and nightlife, St Tropez is also one of the world's great shopping destinations, where high-end designer boutiques like Louis Vuitton, Chanel, Dior, Cavalli, and Valentino, are mixed in amongst local bazaars and fresh fruit stands.
A private jet to St Tropez Airport is the quickest and most comfortable way to travel to the French Riveria's most celebrated port. Book your charter flight with JetApp and enjoy all that the Côte d'Azur has to offer.
Airport Facts
Airport code: LFTZ / LTT
Surface area: 32 ha
Altitude: 18 m (59 ft) above MSL
Passengers per year: 7,987 (2016)
Aircraft movements per year: 8,570 (2016)
Aircraft types: all common aircraft and weight classes
Runway operating hours: 24/7
Runways: 1 (1,180 m)
Top Connections
Geneva Airport (Switzerland)
Paris Le Bourget Airport (France)
Sion Airport (Switzerland)
Annemasse Airport (France)
Lausanne Airport (Switzerland)
Brussels South Charleroi Airport (Belgium)
Flanders Airport (Belgium)
Milan Linate Airport (Italy)
Cannes Airport (France)
Antwerp Airport (Belgium)
Zurich Airport (Switzerland)
Nice Airport (France)
Brussels Zaventem Airport (Belgium)
Buochs Airport (Switzerland)
Lyon Bron Airport (France)
Figari Airport (France)