Your Private Jet to Luxembourg Airport
Luxembourg Airport is located only a few kilometres from the gates of Luxembourg's capital city, which bears the same name. As the only international airport in the Grand Duchy, it is accordingly well-equipped for servicing flights to and from numerous European and worldwide destinations. Book your private or business flight from or to Luxembourg easily online with JetApp and enjoy the benefits of exclusive, VIP service.
History of Luxembourg Airport
Ambitious aviation pioneers selected the Luxembourg Airport's location as Findel in 1930. Ten years later, the space was used by occupying German forces as a Luftwaffe airbase. But as the tide of the Second World War began to turn in 1944, the American army took over its use for transporting equipment into the war zone. With the end of the war, the airport was turned back over to Luxembourg and used once again for civil aviation.
Luxembourg Airport's fairly modest official opening took place in 1946, with wooden barracks serving as the terminal. In 1948, a proper terminal building was constructed and a national airline – Luxembourg Airlines (renamed Luxair in 1962) – was founded. To accommodate steadily growing air traffic, two new runways were added in 1950, followed by a new hangar in 1952. A second terminal was built and the runway extended by 4,000 metres in 1975. Numerous renovations and modernisations of Luxembourg (Findel) Airport began in 2003 which included the construction of the current terminals A and B, a new maintenance hangar, and a state-of-the-art super secure storage facility, Freeport. In 2016, the airport set a new passenger record of three million passengers.
Luxembourg Airport Location
Distance from Luxembourg Findel Airport to:
Luxembourg city centre: approx. 9 kilometres
Philharmonie Luxembourg: approx. 7 kilometres
Fort Thüngen: approx. 10 kilometres
Grand-Ducal de Luxembourg Golf Club: approx. 100 metres
Hire a Private Jet from Luxembourg
Arriving at Luxembourg Airport for your charter flight is always a special experience. The airport's Business Aviation Terminal offers numerous advantages, not least of which the well-equipped lounges, VIP service, and expedited check-in, which is completely separate from the check-in desks in the main commercial terminals. The following destinations are all well under two hours away from Luxembourg by private jet charter: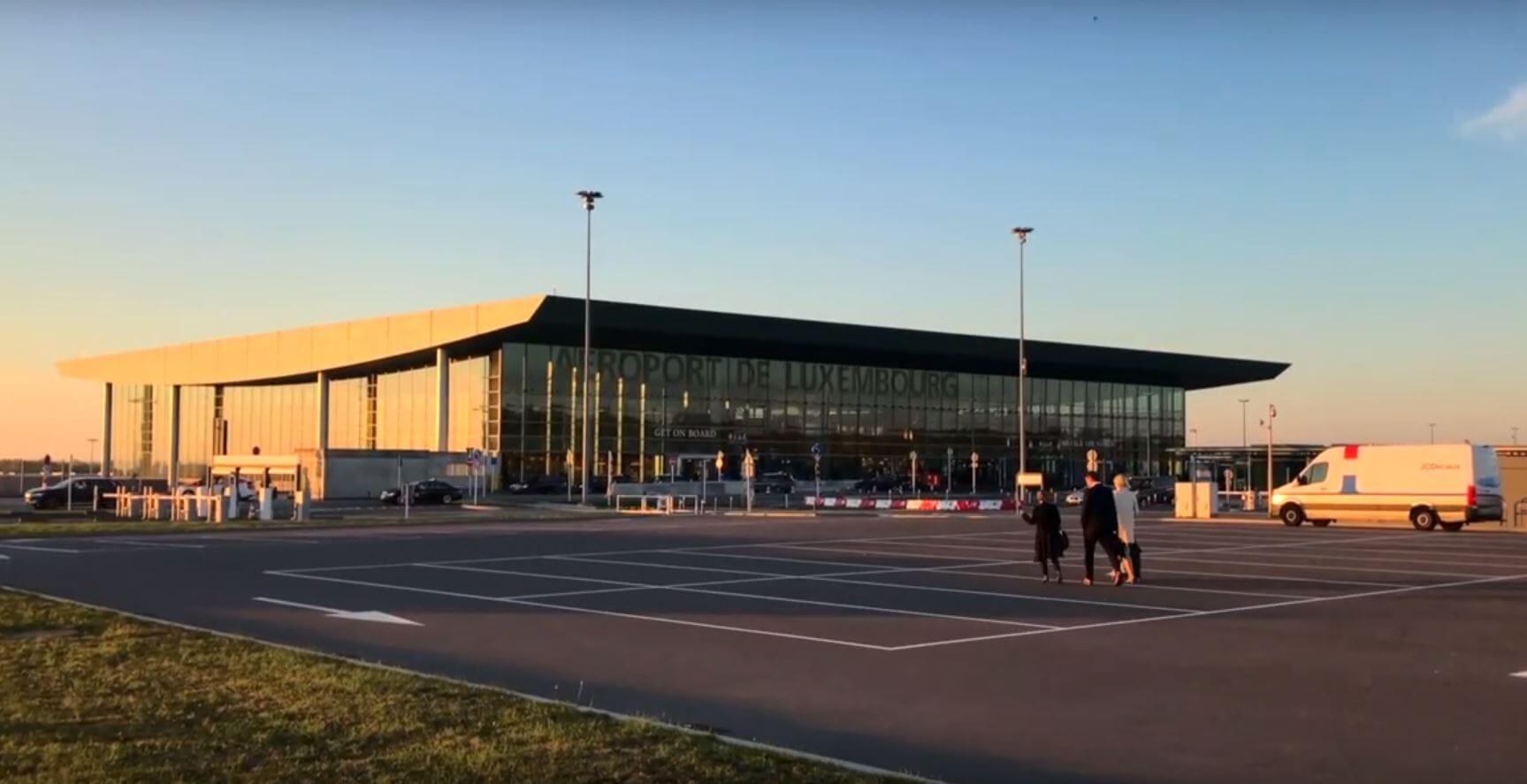 It's only an hour by charter flight from Luxembourg to the private airport Paris Le Bourget (LBG), which is a mere 7 kilometres from the centre of Paris. A flight to Geneva (GVA) is of a similar duration. Maastricht/Aachen Airport (MST) is just over an hour's flight time away and Dusseldorf (DUS) is 45 minutes, with an easy 10 minute transfer to the nearby Dusseldorf Exhibition Centre. Saarbrücken (SCN) is a mere 30 minute from Luxembourg.
Luxembourg's Business Aviation Terminal is a kilometre away from the main terminal, offering arriving passengers travelling by executive charter a completely private and calm check-in experience. VIP transportation and assistance is fully inclusive. The terminal has a fully equipped business centre with offices and meeting rooms, as well as the latest technology for videoconferencing. The following amenities are available for passengers catching a private flight at Luxembourg Airport:
Expedited, separate boarding
Check-in and flight preparation at the Business Aviation Terminal
VIP lounge
VIP transport and assistance
Conference rooms at the Business Centre
Crew lounge
Catering
Limousine service
Helicopter service
Hangaring
Covering an area of 180 hectares, Luxembourg Airport offers high-quality and modern facilities. Over three million passengers arrive and depart on 85,000 flights annually. Charter flights to or from Luxembourg can be scheduled for any time during the airport's operating hours – between 6am and 11pm. Landing and take-off can be navigated using either Visual Flight Rules (VFR) or Instrumental Flight Rules (IFR).The 4,000 metre runway is suitable for all types and weight classes of aircraft:
| | | |
| --- | --- | --- |
| Runway | Length and width | Surface |
| 06/24 | 4,000 m x 60 m | Concrete/Asphalt |
Transport to and from Luxembourg Airport
Passengers arriving by private jet in Luxembourg can be met on the runway by VIP limousine and chauffeured directly into the city centre or to their hotel. Of course, taxis and executive hire car with or without driver are also available. Upon request, VIP service personnel can organise other means of transport, by helicopter, for example. Passengers with high expectations won't be disappointed; Luxembourg Airport's Business Aviation Terminal prides itself on making sure that every private jet passenger's onward travel requirements are fully met.
Luxembourg Private Jet Charter: Experience the Culture in Luxembourg
Private flights to Luxembourg enjoy great popularity. The small country and its highly atmospheric capital city were chosen as part of a multi-country region hosting the European Capital of Culture in 2007. The city's European Convention Centre is also a major venue for events, conferences, and business gatherings.
The city of Luxembourg also has much to offer leisure travellers. Its architecturally magnificent structures include the remains of the Fortress of Luxembourg, the Palace of the Grand Duke, and Notre Dame Cathedral. The historic old town is itself a UNESCO World Heritage Site. A spectacular new concert hall, the Philharmonie, opened in 2005 and is visited by well-known artists from all over the world. Also worth seeing are the Museum of Modern Art and the Luxembourg History Museum. To the northeast of the city is a region known as the "Little Switzerland of Luxembourg" due to its natural beauty. Lovers of the outdoors can even enjoy a round of golf directly at the airport.
Book your charter flight to Luxembourg easily online with JetApp and enjoy the culture and beautiful landscapes of the "green heart of Europe."
Airport Facts
Airport code: ELLX / LUX
Surface area: 182.5 ha
Altitude: 376 m (1,234 ft) above MSL
Passengers per year: 3,030,000 (2016)
Aircraft movements per year: 85,031 (2016)
Aircraft types: all common aircraft and weight classes
Runway operating hours: 6am to 11pm
Runways: 1 (4,000 m x 60 m)
Top Connections
Paris Le Bourget Airport (France)
Geneva Airport (Switzerland)
Saarbrücken Airport (Germany)
Maastricht Aachen Airport (Netherlands)
Dusseldorf Airport (Germany)
Strasbourg Airport (France)
Zurich Airport (Switzerland)
Lyon Bron Airport (France)
Nice Airport (France)
London Farnborough Airport (UK)
Milan Linate Airport (Italy)
London Luton Airport (UK)
Brussels Airport (Belgium)
Amsterdam Schiphol Airport (Netherlands)
Rome Ciampino Airport (Italy)