Charter a Private Jet to Zurich
Zurich Airport (ZRH) is situated 13 kilometres north of the city centre, and is the largest airport in Switzerland. It has three runways, which can accommodate all common aircraft types and weight classes. The comprehensive range of services available at the airport ensure the utmost comfort and security for both passengers and crew.
Zurich Airport: An Award-Winning Project
In 2016, Zurich Kloten Airport received the World Travel Award for the 13th time in a row, in the "Europe's Leading Airport" category. The airport's high quality of services and products, as well as customer satisfaction, have been instrumental to its continued success. However, it took some time to reach this level of achievement. After the initial planning in 1945, it took a further three years for the first flights to take place, and the opening ceremony was finally held in 1953. Since then, it has been steadily expanded and redeveloped to the point where the airport has three terminals, three runways, and some of the finest facilities in Europe. Notably, Zurich Airport terminal B (or 'Dock B') opened in 2011, allowing the simultaneous handling of Schengen and non-Schengen passengers.
Location of Zurich Kloten Airport
Distances from Zurich Airport:
Bahnhofstrasse (Zurich): approx. 11 kilometres by car
Winterthur: approx. 20 kilometres by car
Fluntern (a quarter of district 7, Zurich): approx. 14 kilometres by car
Charter a Private Jet from Zurich
Located 13 kilometres outside Zurich, the airport covers an area of 880 hectares in the municipalities Kloten, Opfikon, Rümlang, Oberglatt, and Winkel. It is a major hub for several airlines and is also home to Swiss Air-Rescue (REGA). Due to its central European location, Zurich Airport is an ideal starting point and destination for charter flights. You can reach many destinations in Europe in just a few hours when you fly from Zurich by private jet: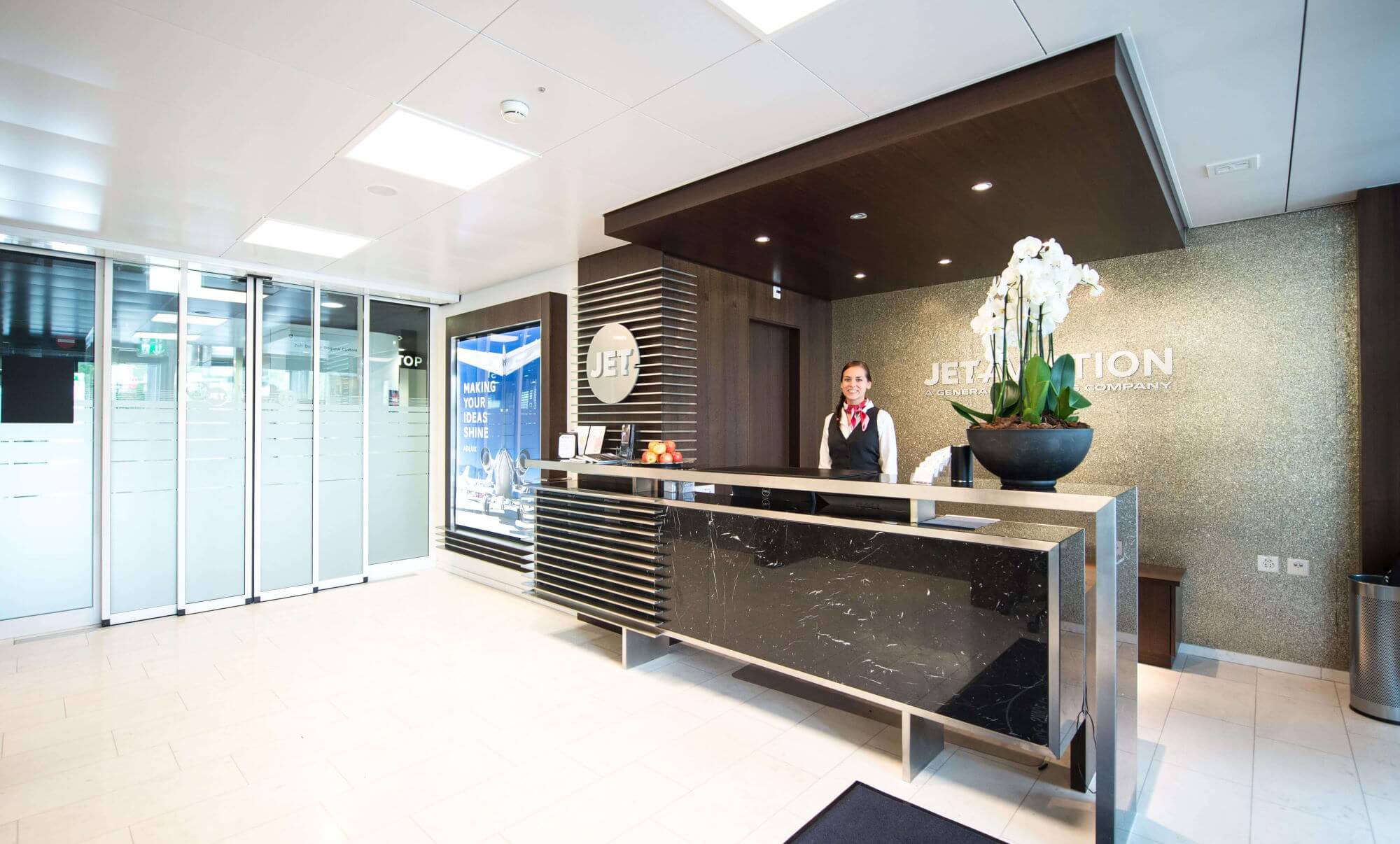 The flight duration by private jet from Zurich to Geneva Cointrin (GVA) is approximately 50 minutes, and the seven kilometre journey from the airport to Geneva city centre takes around 20 minutes. The Swiss Alp resort of St. Moritz is also a mere short helicopter journey from Geneva Cointrin. Charter flights from Zurich to Paris Le Bourget (LBG) take approximately 1 hour and 30 minutes; with a limousine or taxi transfer, you can reach Paris city centre and the business district of La Défense in under an hour. Alternatively, the car rental services in the airport itself provide hire cars for a range of preferences and purposes.
Flights from Zurich to Nice (NCE), the third largest airport in France, last approximately 1 hour and 10 minutes. Because of its close proximity to Monaco, it is also the main airport for flights to and from the principality. The helicopter shuttle service available at the airport makes the 30 kilometre trip to Monaco in a matter of minutes. The journey from Zurich to Farnborough Airport (FAB) takes around 1 hour and 40 minutes by private jet. Its Hampshire location, to the south-west of London, means both the capital and coastal towns along the English channel are easily accessible by car. Charter flights from Zurich Airport to Moscow Vnukovo (VKO) take a little longer, at approximately 3 hours. Moscow's third largest airport is located 30 kilometres from the city centre, and can be reached very quickly by helicopter.
Zurich Airport is the largest in Switzerland, recording 270,000 aircraft movements and 27.7 million passengers in 2016. The Business Aviation Terminal for Private and Business Jets to the east of Terminal 1 is easily accessible from the motorway, and is open daily between 5.50am and 10.30pm. Parking is available directly in front of the terminal building. The airport provides a VIP service to satisfy even the most discerning passengers. These services include:
VIP lounge
Porter service for luggage
Smoking lounge with a selection of cigarettes
Limousine transfer to and from the aircraft
Exquisite array of meals and drinks
Kloten Airport is located 432 metres above sea level and charter flights can be arranged according to Visual Flight Rules (VFR) and Instrumental Flight Rules (IFR), allowing scheduled flights to be carried out even in bad weather. In order to further ensure private flights to and from Zurich Airport are not disrupted by changing wind conditions, three runways are available. The length, width, and foundation of the runways make them suitable for all common types of aircraft:
| | | |
| --- | --- | --- |
| Runway | Length and width | Surface |
| 10/28 | 2500 m × 60 m | Concrete |
| 14/32 | 3300 m × 60 m | Concrete/Asphalt |
| 16/34 | 3700 m × 60 m | Concrete |
In order to keep the level of noise pollution to a minimum, Zurich Airport operates a strict no-fly policy between 11.30pm and 6am. The time period between 11 and 11.30pm is reserved to accommodate any delayed flights.
Note: The number of passengers the Business Aviation Terminal can handle at any given time is limited to 24 people per flight. If that number is exceeded, charter flights will then depart from one of the other Zurich Airport terminals.
Private Jet to Zurich: Passenger Transfers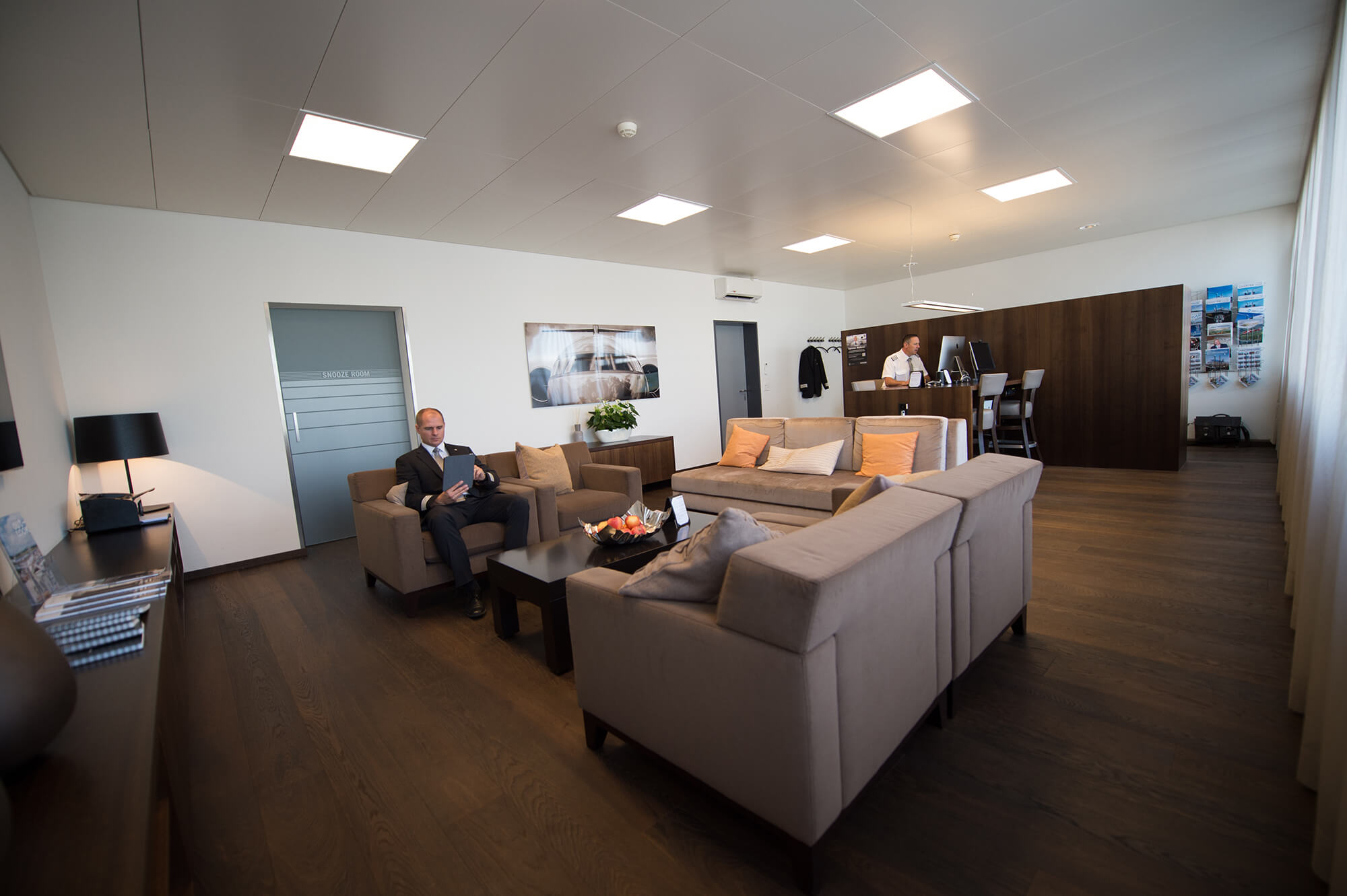 To ensure a consistently high level of travel convenience, Zurich Airport offers various quick and discreet transfer options. The VIP service includes a limousine transfer to and from a place of residence, hotel, or office. In addition, there are a variety of car rental providers at the airport, as well as 130 airport taxis, all of which accept credit card. Finally, for ultimate convenience, there are several helicopters available for transportation to the city centre, Geneva, or St. Moritz.
Charter a Private Jet to Zurich and Discover the City
Whether for business or pleasure, a sojourn to Zurich and the surrounding area is well worthwhile. You will find a wealth of luxury accommodation and restaurants in the city, especially close to Bahnhofstrasse, which among the most exclusive shopping streets in the world and crosses the Paradeplatz - the centre of Swiss banking. The upper part of Bahnhofstrasse leads directly to the Lake Zurich, which offers a range of sports and recreation activities. Every two years in June, Zurich is host to a special event – the Zurich Festival. The festival lasts for three weeks and features a wide variety of theatre, art, and music events, centred upon a common festival theme, in different locations across the city. For a January visit, a trip to St. Moritz (approx. 200 kilometres from Zurich) is highly recommended; the Snow Polo World Cup takes place on a frozen lake every year, where players compete for the coveted Cartier Trophy.
Airport Facts
Airport code: LSZH / ZRH
Surface area: 880 ha
Altitude: 432 m (1416 ft) above MSL
Passengers per year: 27,700,000 (2016)
Aircraft movements per year: 270,000 (2016)
Aircraft: all common aircraft and weight classes
Terminal opening hours: 6am to 11pm
Runways: 3 (2,500 m, 3,300 m, 3,700 m)
Top Connections
Geneva Airport (Switzerland)
Paris Le Bourget Airport (France)
Nice Airport (France)
London Farnborough Airport (UK)
Moscow Vnukovo Airport (Russia)
London Luton Airport (UK)
Basel Mulhouse Airport (France)
Cannes Airport (France)
Milan Linate Airport (Italy)
Innsbruck Airport (Austria)
Salzburg Airport (Austria)
Vienna Airport (Austria)
Palma de Mallorca Airport (Spain)
RAF Northolt Airport (UK)
Amsterdam Airport (Netherlands)