Private Jet to Zagreb Airport: Charter Flights
With a private jet, you can reach the centre of Croatia in comfort and with time to spare. Zagreb is the Croatian capital and an equally important centre for business and culture. As a private jet passenger, you can expect VIP service and amenities at the airport.
Zagreb Airport's History
Zagreb Airport has undergone frequent changes of location and expansion over the course of its history. The original airport was a simple airfield in the Črnomerec district that began operation in 1909. However, the increasing success of the first Yugoslav airline necessitated relocation to a larger site in 1928. After the Second World War, a former military base near the village of Lučko then served as the new airport. It wasn't until 1962 that Zagreb Airport (ZAG) was established at its present location in the Pleso district and was reopened with a terminal and a new runway. Four years later, a new passenger terminal was built and the runway was extended by close to 1,000 metres.
The number of flights to and from Zagreb rose steeply in the 1980s and the airport became the second busiest in then Yugoslavia with numerous international connections. To cope with the increasing passenger volumes in the intervening years, the airport's operating company expanded the infrastructure so that as of 2008 the airport offered a VIP area and added shopping and dining options. Due to the airport's continued popularity, in 2010 it was already clear that further expansions were needed. Because the original restructure had failed to ease the pressure on the existing facilities, the decision was taken to build a new passenger terminal in 2013. The new, modern 65,000 square metre building opened on 28 March 2017.
Zagreb Airport Location
Zagreb Airport is the main hub for Croatian air traffic. The airport is located approximately 14 kilometres outside the city.
Distances from Zagreb Airport to:
Ban Jelačić Square: approx. 9 kilometres by car
Maksimir Park: approx. 9 kilometres by car
Zagreb Fair: approx. 15 kilometres by car
Tkalčićeva Street: approx. 15 kilometres by car
Stone Gate: approx. 15 kilometres by car
Botanical Gardens: approx. 16 kilometres by car
Advantages of a Charter Flight to or from Zagreb Airport
A private flight to Zagreb offers many benefits. Private jet passengers have considerable flexibility in deciding their flight's departure time and need only arrive at the airport shortly before take-off. Flight routes are also flexible. Whether travelling for business or leisure, the choice of stopovers are up to you. Moreover, guests can expect custom service on board as well as on the ground before, during, or after a private or business flight to Zagreb.
Numerous attractive destinations are within an hour's flight time by private jet from Zagreb:
A flight from Zagreb to Lošinj is only around 43 minutes. The island in the Adriatic makes for an idyllic holiday. Capital of neighbouring Serbia, Belgrade is approximately 54 minutes by private jet from Zagreb Airport, whereas Vienna is slightly less at only 48 minutes.
Charter flights to or from Zagreb Airport can be either short or long haul. The runway is suitable for landing or take off for all types and weight classes of aircraft.
Zagreb Airport Runway
| | | |
| --- | --- | --- |
| Runway | Length and width | Surface |
| 05/23 | 3,252 m x 45 m | Asphalt |
Enjoy Excellent Service for Private Jet Charter at Zagreb Airport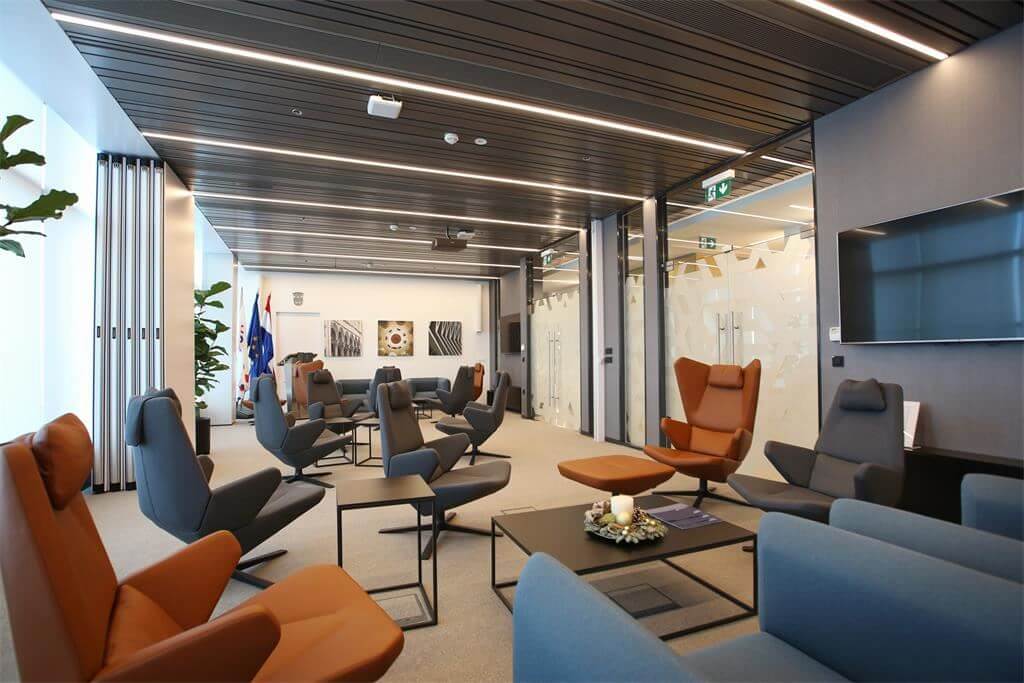 Opened in the early part of 2017, ZAG Airport's passenger terminal is of the highest international standard, featuring an extensive 600 square metre shopping area as well as bars and restaurants. High end clothing boutiques, electronics stores, and local wares are all on offer.
Business and private jet passengers can take advantage of a VIP lounge. Located across from gate 23, away from the main terminal's hustle and bustle, the lounge features comfortable furniture and offers refreshments and snacks. For those requiring a quiet place to read or work, an office area comes with all the equipment one might need. On offer at the lounge:
Wi-Fi
Work stations
Alcoholic and non-alcoholic drinks and a buffet
Newspapers and magazines
A VIP fast track service through security spares time and makes for a smooth transfer to or from your private jet at Zagreb Airport. Airport personnel will greet you upon arrival on the tarmac and see you comfortably to the terminal by private car. You'll be accompanied through security and assisted as necessary in the arrivals process. This VIP package can be reserved for arriving guests and also includes porter service for your luggage.
Transfers to Zagreb
The Croatian capital is an easy transfer from Zagreb Airport due to its excellent connection to the A3 motorway. The airport is served by several hire car companies offering luxury vehicles.
Book a Private Jet to Zagreb and Discover the Croatian Capital
Zagreb is both the legislative and business capital of Croatia, generating roughly a third of the nation's gross domestic product. The most important sectors include finance, trade, pharmaceuticals, and electrical engineering. Numerous international trade fairs and exhibitions take place at the Zagreb Fair (Zagrebački Velesajam) throughout the year.
Zagreb's quiet and well-preserved old town features buildings from the Baroque, neoclassical, and Viennese secession architectural periods. Elegant restaurants and cosy cafés extend a warm invitation as you stroll along the city's broad avenues. A great place to start your exploration of the city is Ban Jelačić Square, named for Croatia's national hero, which is at the centre of the city's pedestrian zone. The Stone Gate (Kamenita Vrata), a medieval remnant of the old city wall, marks the beginning of the historic city core.
An abundance of parks add colourful foliage to the Croatian metropolis. The small lakes and pavilions at the city's Botanical Gardens make a particularly attractive spot to relax and take in a bit of nature. Tkalčićeva Street, on the other hand, is the place to hit the shops. Highlights of Zagreb's outstanding museum scene include the Archaeological Museum, the Museum of Contemporary Art, and the art collection at the Mimara Museum. A private jet charter to Zagreb Airport makes the ideal beginning to discovering this fascinating city.
Airport Facts
Airport code: LDZA / ZAG
Altitude: 108 m (354 ft) above MSL
Passengers per year: 2,766,087 (2016)
Aircraft types: all common aircraft and weight classes
Runway operating hours: 24/7
Runways: 1 (3,252 m)
Top Connections
Mali Lošinj Airport (Croatia)
Belgrade Airport (Serbia)
Linz Airport (Austria)
Vienna Airport (Austria)
Munich Airport (Germany)
Geneva Airport (Switzerland)
Bratislava Airport (Slovakia)
Schwäbisch Hall Airport (Germany)
Nice Airport (France)
Salzburg Airport (Austria)
Milan Linate Airport (Italy)
Zurich Airport (Switzerland)
Split Airport (Croatia)
Budapest Airport (Hungary)
Pula Airport (Croatia)