Book a Private Jet to Munich
Munich's Franz Josef Strauss Airport is the second largest airport in Germany and one of the most important aviation hubs in Europe. The airport is located 28 kilometres outside of Munich and currently has two runways which can both be used by aircraft of all weights and classes.
Munich MUC Airport
Munich's international airport, which bears the name of Bavarian politician Franz Josef Strauss, was opened in spring 1992. It replaced Munich Riem Airport, which was not expanded due to its proximity to the city centre and the increasing volume of air traffic. The change from the old airport to the new, caused a sensation. After the last scheduled flight in Riem took off, shortly before midnight, the transition to the new airport took place and was completed within one night. A further milestone was the opening of Terminal 2 in 2003, which significantly increased the capacity of the airport and improved its facilities. This expansion, however, sufficed for only a few years: in the spring of 2016, a new satellite terminal and an extension of Terminal 2 were added. The construction of a third runway at Franz Josef Strauss Airport and the expansion of Terminal 1 are currently being planned.
Munich Airport Location
Distances from Munich Airport to:
Olympic Park: approx. 35 kilometres by car
Maximilianstraße: approx. 37 kilometres by car
Nymphenburg Palace: approx. 39 kilometres by car
Theresienwiese: approx. 41 kilometres by car
Private Jet Charter to and from Munich
Munich Airport is located approximately 28.5 kilometres northeast of the Bavarian capital and covers an area of 1,618 hectares. Due to its location in the centre of Europe, numerous destinations can be reached in a relatively short time. Top connections include: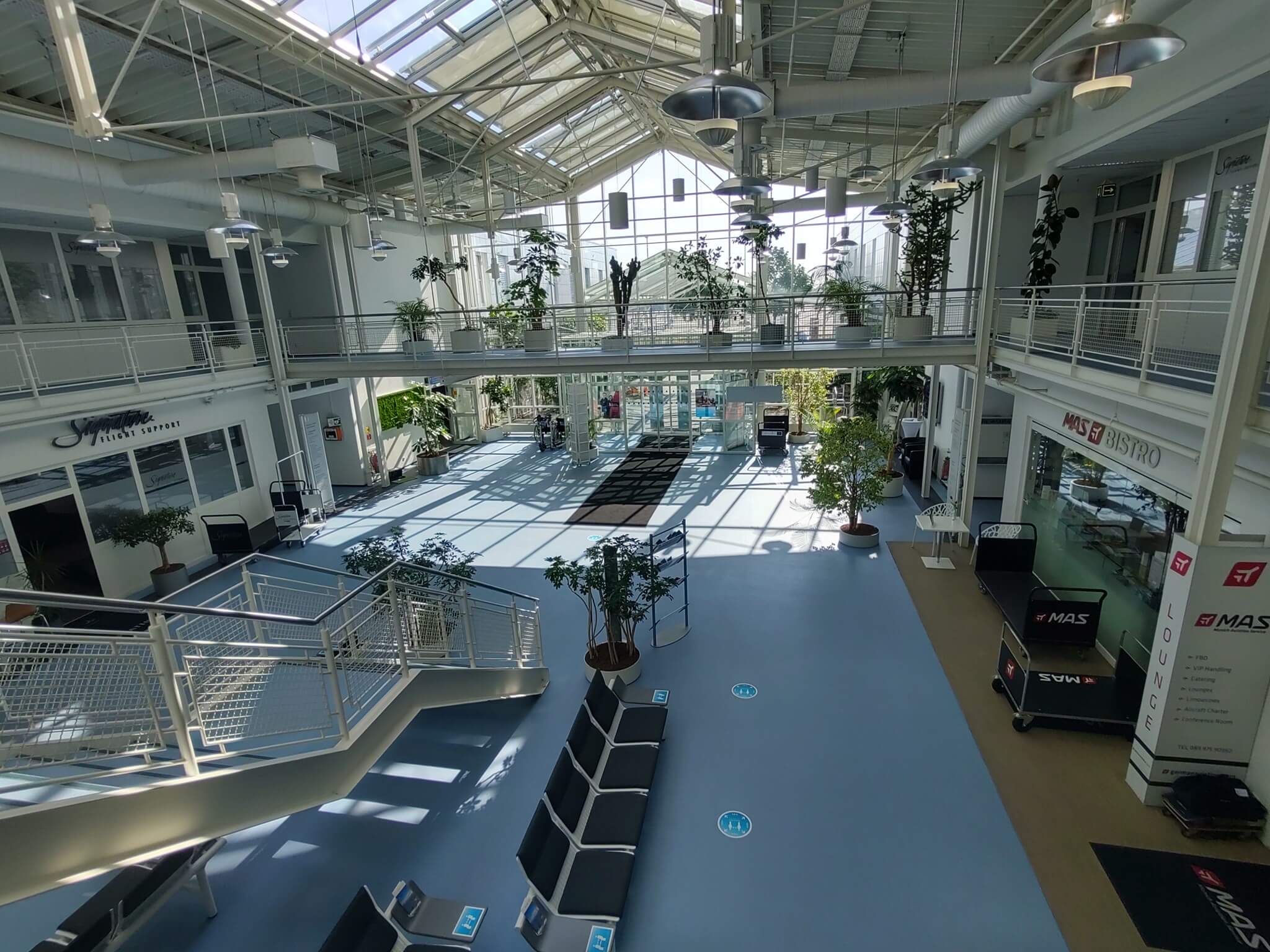 Charter flights from Munich to Nice (NCE) take approximately 1 hour and 25 minutes. The distance from the largest airport on the Côte d'Azur to the centre of Nice is approximately seven kilometres. The neighbouring Monaco, which does not have its own airport, is only about 30 kilometres away. The flight time from Munich Airport to Zurich (ZRH) is slightly less than 1 hour. The charming city centre and the stunning Swiss Alps are both within easy reach of the airport. Transfers to the nearby ski resorts, such as St. Moritz and Davos, are especially comfortable and convenient by helicopter. A charter flight from Munich to Moscow Vnukovo (VKO) lasts a manageable 2 hours and 55 minutes. The third largest airport in the Russian capital, Vnukovo Airport is located about 30 kilometres outside of the city. Due to the congestion on Russian roads, it's wise to take a chauffeur-driven car from the airport or travel by helicopter. With a charter flight from Munich, it takes about 1 hour and 10 minutes to fly to Berlin Schönefeld (SXF). From the international airport located southeast of Berlin, it is approximately 22 kilometres to Berlin's central hub, Alexanderplatz. Anyone who wishes to travel this route with a high-quality rental car will find the right provider in front of the main terminal. The duration of the flight from Munich to the private airport Paris Le Bourget (LBG) lasts approximately 1 hour and 40 minutes, and the centre of Paris is just 16 kilometres away. The business centre La Défense, located to the west, is approximately 20 kilometres from the airport.
After the international airport Frankfurt am Main (EDDF / FRAU), Munich Airport is the second largest in Germany. The airport currently has a capacity of 90 flights per hour. Each year 394,430 flights pass through, carrying more than 42.2 million passengers, and this trend is on the rise. The recently renovated VIP Terminal ensures a comfortable and luxurious stay. There are comfortable suites to relax in, as well as a range of culinary delights to be had. The range of exclusive services and benefits at Munich Airport include:
Separate access to VIP Wing
Multilingual VIP Service
Private check-in, security check, and separate baggage handling
Smoking suite with humidor and range of fine cigars
Office spaces and conference suites
The VIP Wing can be accessed in Terminal 1 of the airport, via Module E.
Munich Airport is located 448 metres (1,470 ft) above sea level. The airport features two terminals, as well as two runways, which can be flown to according to Visual Flight Rules (VFR) and Instrumental Flight Rules (IFR). Both runways can accommodate all common aircraft types and weight classes:
| | | |
| --- | --- | --- |
| Runway | Length and width | Surface |
| 08R/26L | 4,000 m × 60 m | Concrete |
| 08L/26R (> 08C/26C) | 4,000 m × 60 m | Concrete |
Important note concerning private jet charter at Munich Airport: there is a restriction on night-time flights in the airspace above the city. A flight ban applies between 10pm and 6am, from which only postal and surveying flights are excluded. Between midnight and 5am, only emergency flights are allowed. Approved flights between 10pm and 10am or between 5am and 6am must be registered in the Federal Ministry of Transport's list of extra flights. Delays are excluded from these arrangements.
Transfers for Private Jet Charter in Munich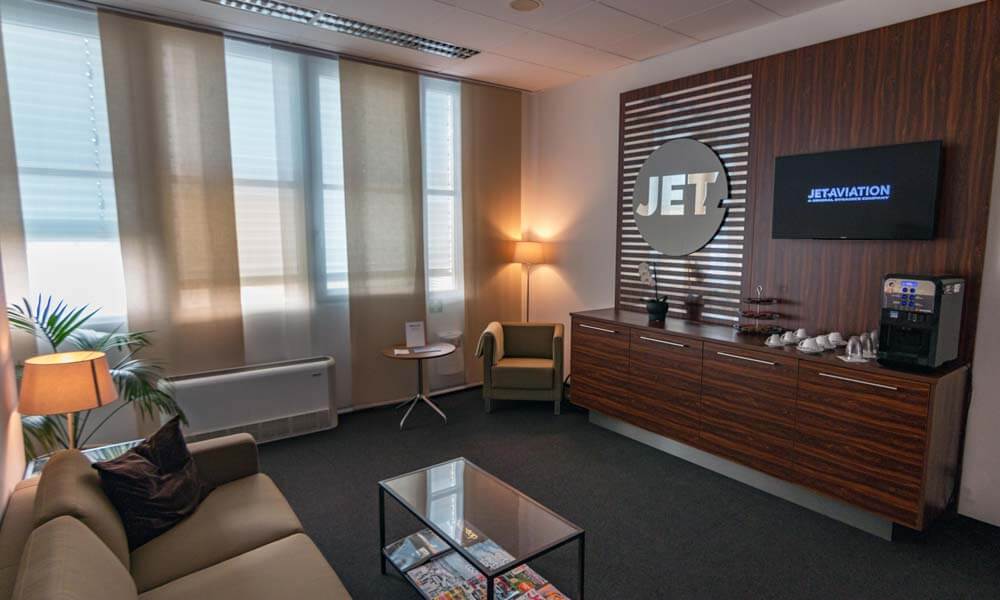 Travelling by car to the centre of Munich takes roughly 30 minutes. However, transfers to MUC airport by helicopter are also possible. The Lufthansa Express helicopter quickly takes passengers to any desired destination within a radius of 500 kilometres from the airport. This exclusive transfer is available all year round and is included in Munich Airport's VIP service. In addition, the limousine service, allows passengers to reach their desired destination from the airport in comfort. Alternatively, there are taxis available in front of Terminals 1 and 2. The taxi collection point is located on Level 3 North in Terminal 2.
Charter a Private Jet to Munich and Experience the City
With its long history and rich culture, the Bavarian capital has much to offer visitors. Worthwhile sights include the city centre (especially the area around the Marienplatz and the Town Hall), Nymphenburg Palace, and the world famous English Garden. High fashion shopping can be found on Maximilianstraße (Maximilian Street), where boutiques of all major designer houses are located. Numerous luxury hotels afford visitors to the city a stay on the river Isar. The most prestigious hotels are the Mandarin Oriental Munich and the Hotel Vier Jahreszeiten Kempinski. Should you wish to visit the world famous Oktoberfest, which takes place annually in September, you should book a hotel room and a table at one of the beer tents early. In particular, the Marstall and Käfer's Wiesn-Schänke tents are highly recommended.
With JetApp, you have the opportunity to charter a private jet to or from Munich, be it for business or pleasure.
Airport Facts
Airport code: EDDM / MUC
Surface area: 1,618 ha
Altitude: 448 m (1,470 ft) above MSL
Passengers per year: 42,261,309 (2016)
Aircraft movements per year: 394,430 (2016)
Aircraft types: all common aircraft and weight classes
Runway operating hours: 6am to 10pm
Runways: 2 (4,000 m; 4,000 m)
Top Connections
Nice Airport (France)
Zurich Airport (Switzerland)
Moscow Vnukovo Airport (Russia)
Berlin Schönefeld Airport (Germany)
Paris Le Bourget Airport (France)
Vienna Airport (Austria)
Nuremberg Airport (Germany)
Stuttgart Airport (Germany)
Cologne Bonn Airport (Germany)
Frankfurt am Main Airport (Germany)
London Luton Airport (UK)
Düsseldorf Airport (Germany)
Geneva Airport (Switzerland)
Braunschweig Wolfsburg Airport (Germany)
Milan Linate Airport (Italy)