Book a Private Jet to Augsburg Airport: Ideal for Business Travellers
As a regional hub for air traffic, Augsburg Airport offers international travellers a quick and direct connection to the cities of southern Germany. Thanks to the airport's Instrument Landing System (ILS) and unrestricted take-off and landing times, private jet passengers can fly to Augsburg Airport at their convenience, even in bad weather or late at night.
Augsburg Airport (AGB) History
Augsburg's first airport was built as early as 1928 in the city's Haunstetten district. The American military assumed control of the airport after the end of the Second World War and civil aviation did not resume until the 1960s. When the American forces withdrew in 1964, the newly founded operating company Augsburg Airport GmbH took over the airport's administration and set about positioning the airport as a major driver of the region's economic growth. The airport's original site was given over to the newly created University of Augsburg and a new terminal and landing strip was built in the Affing district of Augsburg. Augsburg Airport (officially Augsburg Mühlhausen) was re-opened at its present location on 22 June 1968.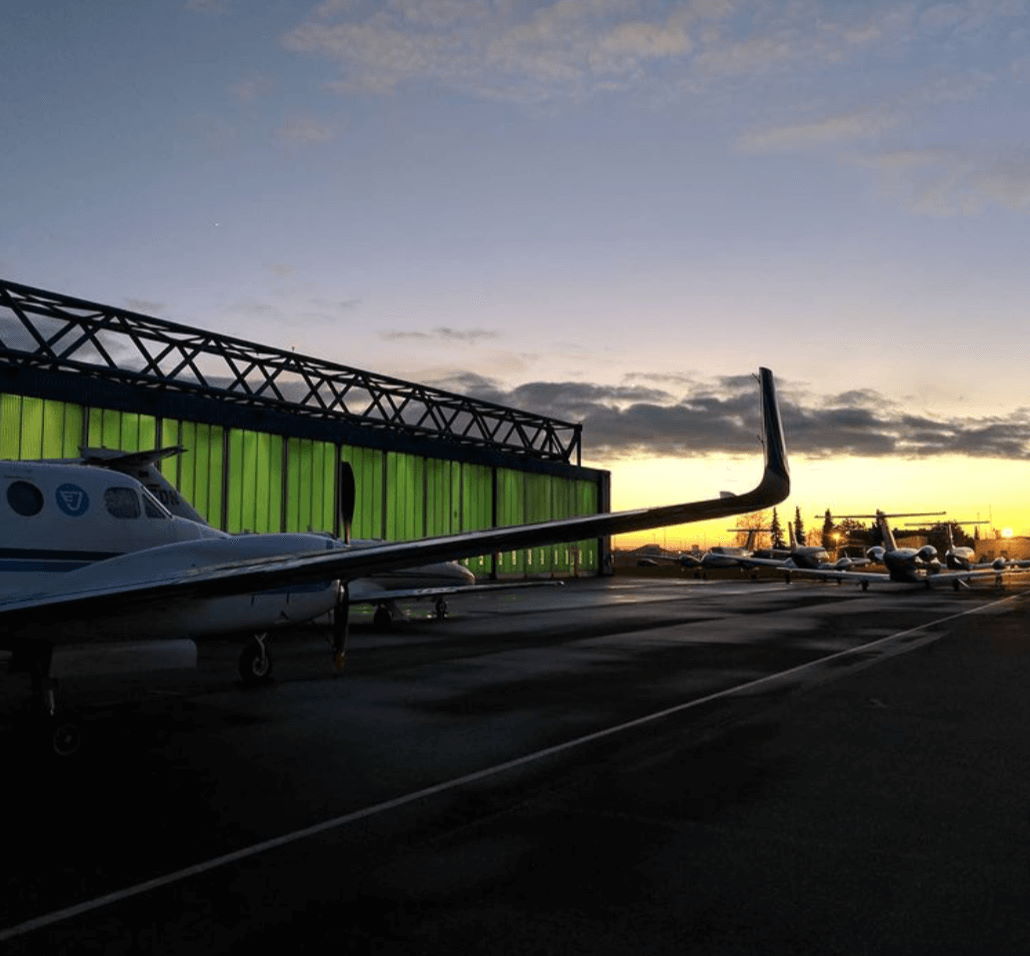 Thanks to its convenient connection to the A8 motorway and the establishment of a controlled zone around the airport in 1985 – allowing an ILS for landing in unfavourable weather conditions – the airport soon developed into the busiest regional airport in Bavaria as of the early 1990s. In addition to providing strong infrastructure to support private jet charter, Augsburg Airport also established scheduled services through Interot Airways (later Augsburg Airways), which belonged to the paper manufacturer Haindl. Construction of a new control tower in 1997 and the formation of a permanent customs and police station in 1998 made flights from Augusburg to a range of international destinations possible. At its peak, AGB Airport processed up to 13 commercial flights daily.
However, that all changed at the beginning of the 2000s when Augsburg Airways moved its operations to Munich as one of Lufthansa's franchise partners. Other circumstances – the short length of the runway and the impossibility of expanding it – led to the airport operating company's insolvency. The city of Augsburg has been the sole owner of the airport since 2005, concentrating on running a modern municipal airport. In 2014, evidence of this endeavour's success took the form of a new hangar for corporate jets, which was the result of growing demand for private flights at Augsburg Airport.
Augsburg Charter Flights Around the Clock
Augsburg Airport functions largely as a domestic airport for the Augsburg-Munich region. The airport's grooved, 1,594-metre runway can be used by aircraft weighing up to 50 tonnes, making it ideal for business and commercial aviation.
| | | |
| --- | --- | --- |
| Runway | Length and width | Surface |
| 07/25 | 1,594 m x 30 m | Asphalt |
Private jet passengers can enjoy the following amenities and services at Augsburg Airport:
Easy connection to the six-lane A8 motorway
Car hire services and parking places directly at the door
CAT I Instrument Landing System (ILS) which allows take-off and landing in all weather conditions
Refurbished, grooved runway that allows suitable aircraft to safely land on a wet runway
No restrictions on flight times, meaning charter flights at Augsburg Airport are possible 24 hours a day, 7 days a week
Customs and immigration directly on site
Augsburg Airport Location
Augsburg Airport is located close to Augsburg city centre and the city's centre can be reached from the airport by taking motorway exit 73 Augsburg Ost (East). The airport is officially named Augsburg Mühlhausen Airport because of its proximity to the small town of Mühlhausen in Bavaria's Aichach Friedberg region.
Distances from Augsburg Airport to:
Augsburg city centre: approx. 7 kilometres by car
Munich: approx. 54 kilometres by car
Stuttgart: approx. 160 kilometres by car
Private Jet Charter at Augsburg Airport
Delays, slow check-ins, layovers, and lost or delayed luggage are things you won't have to worry about when you charter a business jet to or from Augsburg Airport. You can decide when to travel and with whom; all your journey's details are flexible and according to your wishes. After you book your Augsburg private jet, all you need to do is arrive at the airport just before your flight, check in, and make your way leisurely on board, where you can simply relax or prepare for your next appointment.
Book a charter flight with JetApp, and your private plane charter at Augsburg Airport will be ready and waiting for you as per your specifications. The airport's Instrument Landing System, refurbished runway, modern facilities, and apron area make it an excellent departure and arrival point for corporate and private aircraft.
Popular Destinations for Private Jets from Augsburg Airport
The five most frequently requested outbound charter flights from Augsburg are particularly attractive due to their short duration. A private flight from Augsburg Airport to Zurich takes 45 minutes. You can arrive in the Swiss economic capital at any time, day or night, in less than an hour. When it comes to reaching areas not served by commercial airlines, there's no question of the quickest option: Schwäbisch Hall Airport and Memmingen Airport are a mere 35 minutes from Augsburg Airport. The following destinations are the most popular from Augsburg:
A Charter Flight to Augsburg: A Jewel in Bavaria's Crown
Augsburg combines the flair of a modern economic metropolis with typical Bavarian charm. With a population of 300,000, it is a major Bavarian urban area and one of the most important industrial centres in southern Germany, with modern, high-tech manufacturers and well-established corporations present. Augsburg has long been a centre of commerce and finance. In 1494, the city's famous patrician Jakob Fugger established one of the world's first public companies. Fugger also created the world's first social housing complex, the Fuggerei, which visitors to the city can see today.
Make your business trip to Augsburg a pleasure and book a private jet online with JetApp to enjoy comfortable, discreet travel.
Airport Facts
Airport code: EDMA / AGB
Altitude: 462 m (1,516 ft.) above MSL
Aircraft types: all common aircraft and weight classes up to 50 tonnes
Runway operating hours: 24/7
Runways: 1 (1,594 m)
Top Connections
Zurich Airport (Switzerland)
Schwäbisch Hall Airport (Germany)
Memmingen Allgäu Airport (Germany)
Frankfurt Airport (Germany)
Dortmund Airport (Germany)
Cologne Bonn Airport (Germany)
Oberpfaffenhofen Airport (Germany)
Leipzig Halle Airport (Germany)
Prague Airport (Czech Republic)
Berlin Schönefeld Airport (Germany)
Milan Linate Airport (Italy)
Lahr Airport (Germany)
Munich Airport (Germany)
Schönhagen Airport (Germany)
Essen Mülheim Airport (Germany)