Your Private Jet to Mannheim City Airport
Also known as Mannheim City Airport, Mannheim Airport is located in the heart of the Rhine Neckar metropolitan region. Convenient because of its central location, the airport is situated only 3.5 kilometres east of Mannheim. With optimal transport links from the city centre, Mannheim is perfectly situated to connect to all major European cities by private jet charter at Mannheim City Airport.
Mannheim Airport History
Aviation in Mannheim had its beginnings in 1784 when a wood-fired hot air balloon made of paper flew over Mannheim Palace. Almost a century and a half later, Mannheim Airport received its first passenger plane when an aircraft from the newly formed company Luft Hansa AG landed in 1926.
The airport's owner and operator has been Rhein Neckar Flugplatz GmbH since 1962, which has undertaken a series of modernisations and expansions. For example, a paved runway surface was added in 1973. A modern handling and administrative building was added, allowing for the airport to continue expanding its flight offerings. Primarily used by private flights, Mannheim City Airport has been an SES certified air navigation service provider since 2007.
Equipped with all the required modern technical equipment to serve the area's general aviation needs, a number of local companies base their corporate jets at Mannheim Airport. The aerodrome is also used by medevac helicopters, a flight school, and two aviation clubs.
Mannheim Airport Location:
Distances from Mannheim Airport to:
Mannheim Palace: approx. 9 kilometres by car
Mannheim Water Tower (Wasserturm): approx. 4 kilometres by car
Mannheim Planetarium: approx. 4 kilometres by car
In contrast to the nearest commercial airports in Frankfurt and Stuttgart, Mannheim city centre is a convenient 3.5 kilometres to Mannheim Airport, making it ideal for business flights to Mannheim. Taxi or limousine transfer can be organised to meet your charter jet at Mannheim City Airport. Car hire services are also available. If providing your own transport to the airport, parking spaces are located directly at the terminal or in a carpark upon request.
Private Jet Hire from Mannheim City Airport: Frequent Destinations
If you're planning a trip to another European city, a private plane charter from Mannheim City Airport makes the ideal nonstop option to numerous exciting destinations. The top five connections for a charter flight from Mannheim are: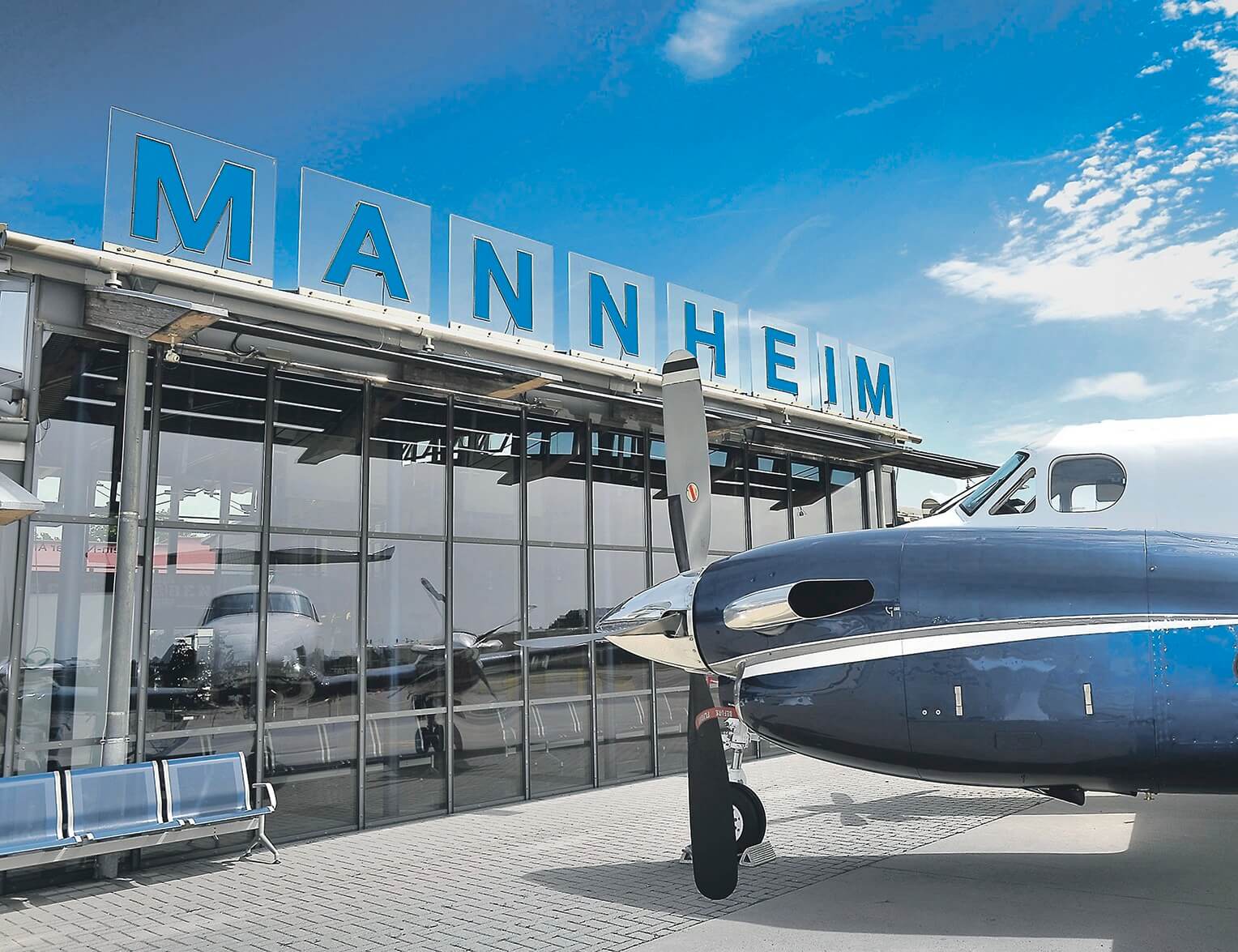 Within Germany, the vibrant capital city of Berlin is only an hour flight. Whether travelling for business or pleasure, Berlin is never short of innovation or something new to discover, from history or art to fashion or film. If your style and interests are more traditional, a 49 minute business jet from Mannheim City Airport can have you in the Bavarian capital of Munich. A similar duration of flight will see you landing in Oberpfaffenhofen.
Hire a private jet from Mannheim Airport for a quick trip to Cannes, taking an enjoyable and convenient hour and 17 minutes to the ultimate glamourous destinations on the Côte d'Azur. The charms of Vienna are also just an hour and twelve minute flight away.
Private Jet at Mannheim Airport: Services and Amenities
Mannheim City Airport's proximity to the city centre is a considerable time saver and thus attractive for many business travellers. The airport's entire infrastructure is also designed for maximum comfort and efficiency, with parking spaces only a few steps from the check-in desks. Other special features and advantages include:
Ample parking
Restaurant with beer garden
Conference room with air conditioning, projector, and laser pointer
Short check-in times
Excellent service
If you happen to be in Mannheim in the summer and are a music fan, make sure you don't miss the Maifeld Derby. The city's annual festival takes place in mid-July and features 70 national and international artists on four stages, making for a memorable and spectacular weekend.
Mannheim Airport Runways
| | | |
| --- | --- | --- |
| Runway | Length and width | Surface |
| 09/27 | 1,066 m x 25 m | Asphalt |
| 09/27 | 795 m x 30 m | Grass |
Flights from Mannheim Airport can be navigated by both visual and instrumental flight rules. Whether you are travelling a short or long distance for business or leisure, a Mannheim flight assures the highest comfort and a direct connection. Book your next private jet to Mannheim Airport online with JetApp and enjoy the many benefits of travelling by private jet.
Airport Facts
Airport code: EDFM / ‎MHG
Altitude: 93 m (305 ft) above MSL
Passengers per year: approx. 130,000 (2010)
Runway operating hours: Mon-Fri 6am to 9pm, Sat-Sun 8am to 9pm, 24h PPR
Runways: 2 (1,066 m, 700 m)
Top Connections
Berlin Schönefeld Airport (Germany)
Vienna Airport (Austria)
Oberpfaffenhofen Airport (Germany)
Munich Airport (Germany)
Cannes Mandelieu Airport (France)
Bern Belp Airport (Switzerland)
Hannover Airport (Germany)
Palma De Mallorca Airport (Spain)
Karlsruhe Baden-Baden Airport (Germany)
Bremen Airport (Germany)
Paris Le Bourget Airport (France)
Nuremberg Airport (Germany)
Hamburg Airport (Germany)
Zurich Airport (Switzerland)
Giebelstadt Airport (Germany)