Arrange a Private Jet Charter to Stuttgart Airport
Located 14 kilometres from the city centre, Stuttgart Airport covers an area of almost 400 hectares, making it the largest in Baden-Württemberg. Various European cities are within easy reach. Stuttgart private jet passengers enjoy expedited boarding, eliminating the need to queue at security or arrive hours in advance of a commercial flight. Book your charter flight to or from Stuttgart online with JetApp and enjoy exclusive service.
History of Stuttgart Airport
Stuttgart Airport (STR) was built in 1936 in the neighbouring town of Echterdingen when the previous airport at Böblingen reached its capacity. Civilian flights operated from the airport for a short time from 1939, but it was taken over by the Luftwaffe when the war began. During the Second World War, the airfield was expanded with 12 aircraft hangars and a new concrete runway, which was destroyed by bombing in 1944.
Following the war and repair of the runway, civil aviation resumed in 1948, initially only by foreign airlines such as Swissair and Pan American, with Lufthansa first establishing service in 1955. In 1951, a new air traffic control tower was built. 1959 saw the first extension of the runway with a further extension and extensive modernisation work taking place in the 1990s and 2000s. This included four new terminals as well as the General Aviation Terminal (GAT) which is used by private aircraft.
STR Airport Location
Distances from Stuttgart Airport to:
Stuttgart city centre: approx. 14 kilometres by car
Television tower: approx. 10 kilometres by car
Staatstheater Stuttgart: approx. 15 kilometres by car
Mercedes Benz Museum: approx. 20 kilometres by car
Charter Flights from Stuttgart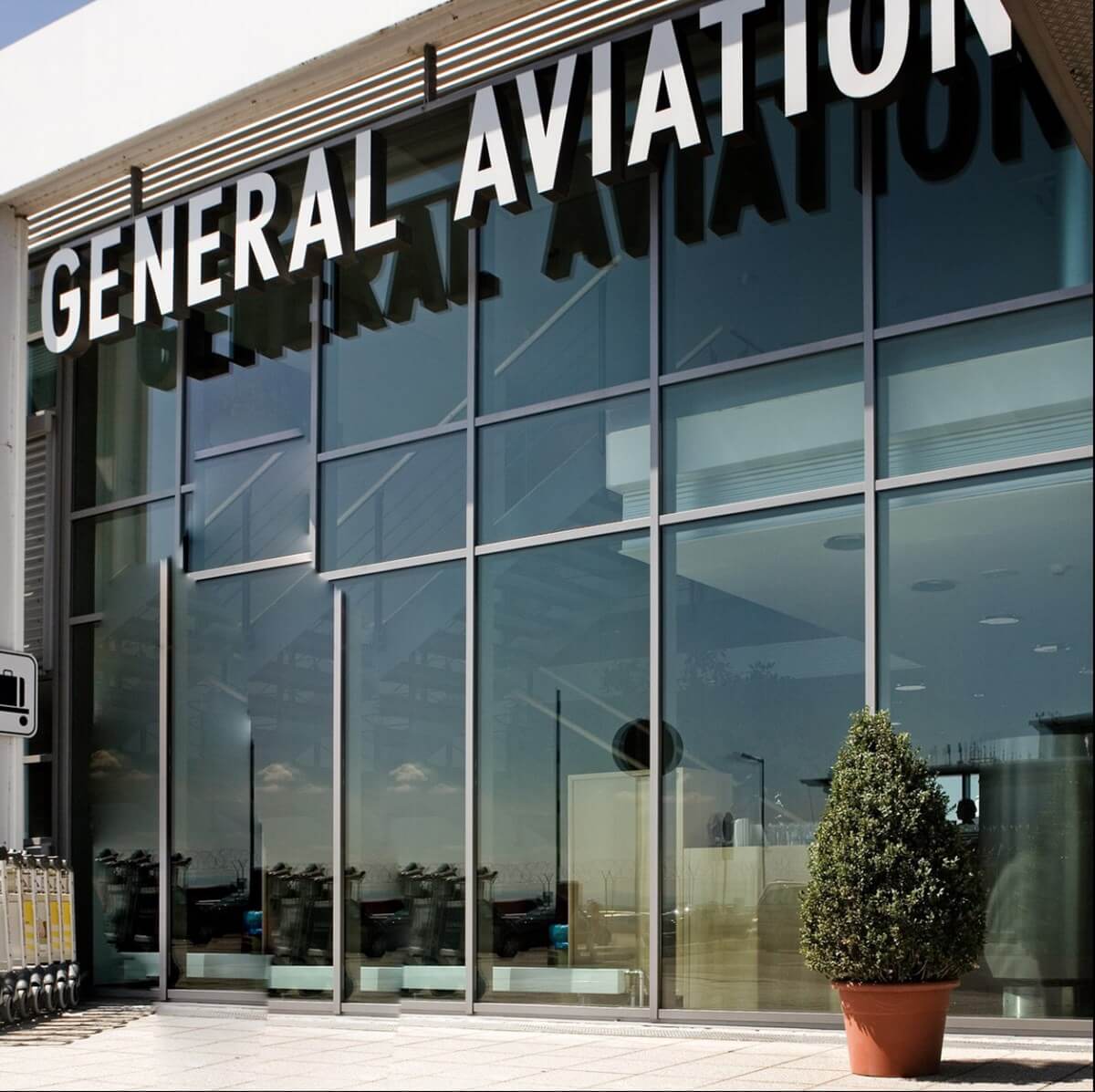 In order to avoid the terminals for commercial airlines, Stuttgart's private jet passengers can check in at their leisure at the GAT. Opened in 1998, the terminal offers exclusive lounges, quiet areas, and conference rooms. In 2001 it was awarded an architecture prize for "exemplary construction" in the Esslingen area. Private jet charter from Stuttgart is the quickest and most comfortable means of travel to various destinations:
A popular destination for business travellers, Braunschweig (BWE) is about an hour flight from Stuttgart. A flight by private jet from Stuttgart to Berlin Schönefeld (SXF) is just over an hour, whereas Munich (MUC) and Zurich (ZRH) are each only 45 minutes flight time. An important research and development hub as well as home to the Karlsruhe Institute for Technology, nearby Karlsruhe (FKB) and its booming startup scene is just under a half hour by private jet.
Those who arrange a private jet charter from Stuttgart enjoy exclusive service from the moment of booking through to arrival at their final destination. At Stuttgart Airport's GAT, check-in, security, and passport control are quick, discrete, and efficient. Exclusively reserved for passengers of charter flights, privacy is a given, with VIP personal assistance available if desired. The terminal's lounges are well-equipped to serve your every need and its two hangers have capacity for 42 aircraft. STR's private jet terminal offers: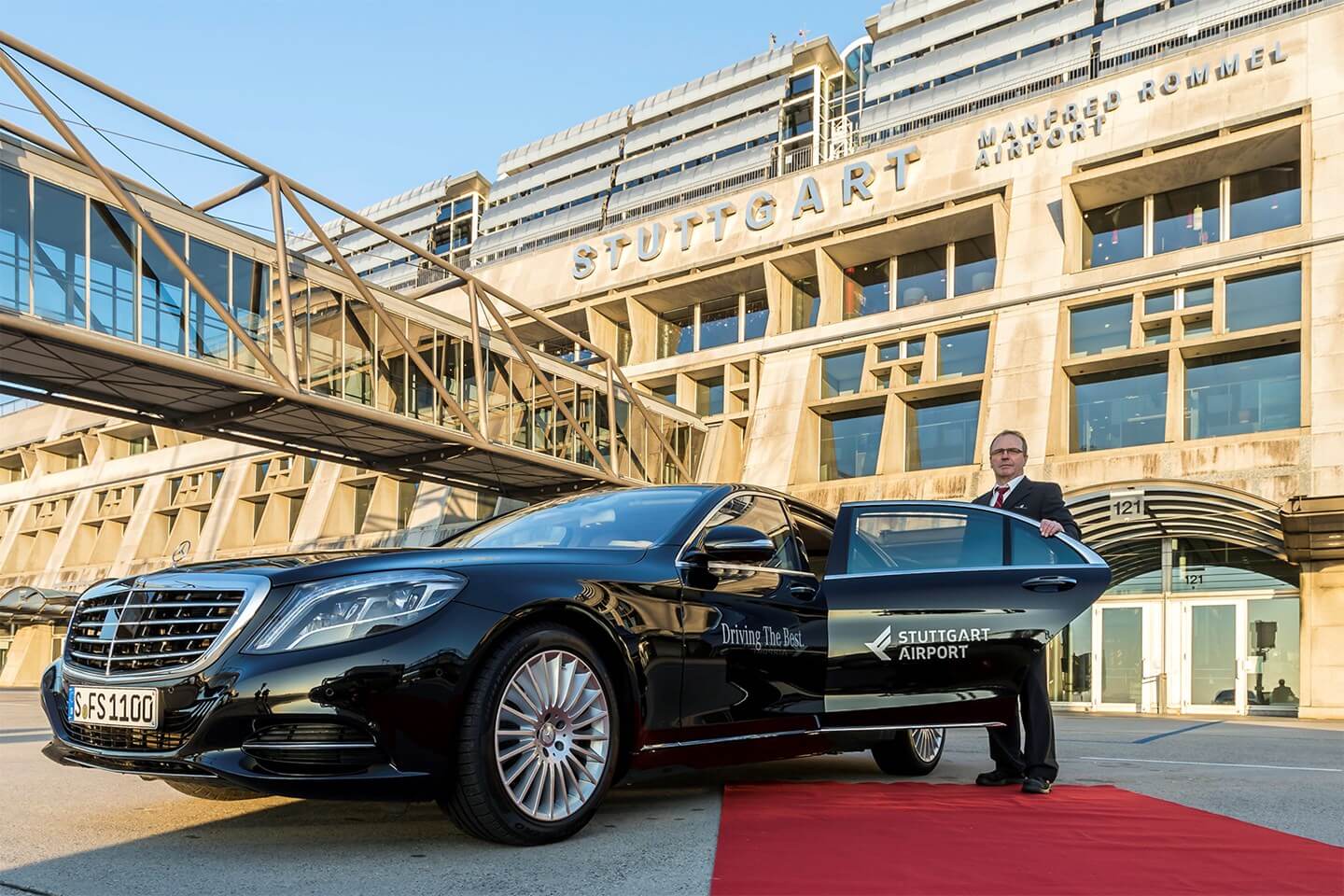 Separate boarding
VIP assistance
VIP lounges
Quiet rooms
Conference rooms
Crew lounges
Catering
Free Wi-Fi
Televisions
Hangaring
Limousine service
Helicopter service
Stuttgart Airport accommodates more than 10.6 million passengers and almost 130,000 flight movements annually. Because a strict night flight restriction is in place, aircraft may only take off between 6am and 11pm, and land between 6am and 11:30pm. The airport can operate according to both Visual Flight Rules (VFR) and Instrumental Flight Rules (IFR). For this purpose, a runway located approximately 360 metres above sea level is available for all common aircraft types and weight classes:
| | | |
| --- | --- | --- |
| Runway | Length and width | Surface |
| 07/25 | 3,345 m x 45 m | Concrete |
Transfer Options at Stuttgart Airport
Passengers have a wealth of options for transfers to the city centre: taxis, executive hire cars with or without driver, and shuttle services. Inclusive with the VIP assistance option, a limousine service can take passengers directly to their aircraft. Helicopter transfer is also available.
Private Jet Charter to Stuttgart: Leisure and Entertainment Options
A charter flight to Stuttgart is well worth undertaking to experience the many unique offerings of Baden-Württemberg's capital. Among its many esteemed attractions is the Staatstheater Stuttgart, a multidisciplinary arts centre featuring its own resident opera, ballet and theatre companies. The main venues are located in the Upper Palace Garden, a worthy attraction in itself. The city's most important landmark is the 13th century Stiftskirche, a multi-naved church built in the Romanic style. Stuttgart's Television Tower was the first of its kind. Car enthusiasts will delight at the impressive collection of classic vehicles at Stuttgart's Mercedes Benz and Porsche museums whereas art lovers will not be disappointed with the collections at the Old and New State Galleries.
There's no lack of sophisticated accommodation in Stuttgart. Comfortable and elegant hotels can be found beside the Palace Gardens and among the city centre's winding alleyways and historic houses. Prestigious boutiques are found in abundance on Königstraße, which leads past the Palace Square with the impressive Old and New Castles. Stuttgart's old town has much to discover.
Charter a private jet to Stuttgart and experience a city described by its residents as the "Paradise of Swabia." Book your flight online with JetApp and enjoy exclusive service both on the ground and onboard.
Airport Facts
Airport code: EDDS / STR
Surface area: 395 ha
Altitude: 360 m (1,181 ft) above MSL
Passengers per year: 10,640,610 (2016)
Aircraft movements per year: 129,704 (2016)
Aircraft types: all common aircraft and weight classes
Take-off operating hours: 6am to 11pm
Landing operating hours: 6am to 11:30pm
Runways: 1 (3,345 m)
Top Connections
Braunschweig Wolfsburg Airport (Germany)
Berlin Schönefeld Airport (Germany)
Munich Airport (Germany)
Schwäbisch Hall Airport (Germany)
Karlsruhe Baden-Baden Airport (Germany)
Niederstetten Airport (Germany)
Zurich Airport (Switzerland)
Hannover Airport (Germany)
Salzburg Airport (Austria)
Paris Le Bourget Airport (France)
Vienna Airport (Austria)
Dusseldorf Airport (Germany)
Frankfurt (Main) Airport (Germany)
Cologne Bonn Airport (Germany)
Hamburg Airport (Germany)